Meet Dr. Terry Setterquist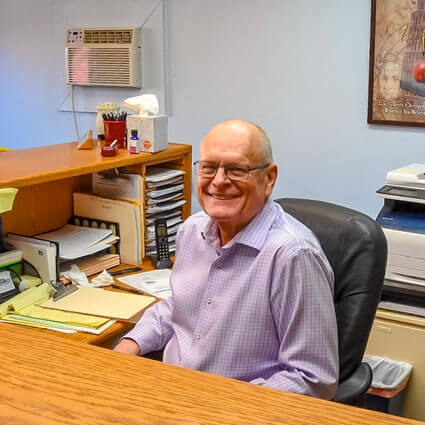 One of the first things you might notice about Dr. Terry is his passion for chiropractic. He has a good reason for his strong belief in its healing abilities.
While in the 9th grade, Dr. Terry developed terrible back pain. He suffered with it for two years. Numerous visits to medical doctors proved useless. Finally, in 11th grade, he went to see a chiropractor.
By his third visit, he experienced relief from the awful pain. With further treatment, he was able to go back to playing basketball. He decided, then and there, that he could do this. He wanted to help people like he had been helped.
An Education in Chiropractic and More
Dr. Terry attended the Northwestern College of Chiropractic; now known as Northwestern Health Sciences University. He graduated with his Doctor of Chiropractic in 1978 and began working at a practice in Duluth, MN in 1979.
While in school, he attended a seminar given by Dr. Leonard J. Faye, the originator of the Motion Palpation Technique. It was during this seminar, watching Dr. Faye as he demonstrated how to release the atlas vertebrae, that he realized he really could make a difference in someone's health and wellbeing.
In July 1980, he moved to Cannon Falls, MN where he bought a practice and worked for 23 years. He moved back to Cloquet, MN, where he grew up, to take care of his parents. Originally, Dr. Terry, who is a member of the Fond Du Lac Band, was hired to work on the reservation. Both he and his wife worked in the clinic but were let go.
He started working at a practice in the neighboring town of Carlton, MN. The practice was for sale and Dr. Terry ended up purchasing it. His office has been at this site for 17 years. Many of his current patients have continued in therapy during this time.
Outside of the Practice
Growing up, family was Dr. Terry's foundation. He continues the tradition with his wife, his three daughters and their children. His wife is a traveling nurse, so he has had to assume more household duties than in the past.
When he's not busy with that, he enjoys running, swimming and golf.
The Practice Today
Over the years, Dr. Terry has used just about every chiropractic technique. He now believes that the basic, proven chiropractic techniques used for years are all he needs to provide his patients with relief. His practice used to be all acute cases but currently is about 75% maintenance patients.
CHIROPRACTIC CARE »
Book Your Visit Today
Dr. Terry is waiting to help you get back to living life to its fullest. If you're interested in learning more, please contact us for an appointment.
---
Dr. Terry Setterquist | (218) 384-4070